---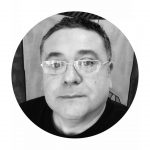 A PROFESSIONAL HAIR STYLIST TRAINED IN CANADA AND USA. CO-FOUNDER OF MARTINO.CA. A BOUTIQUE HAIR STUDIO.
WE OFFER A WIDE SELECTION OF HAIR CUTTING-STYLING SERVICES AND HAIR COLORS, HIGHLIGHTS, BALAYAGE AND CORRECTIVE COLOR SERVICES. WHEN IT COMES TO FOILS AND HIGHLIGHTS WE EMPLOY MANY TECHNIQUES FOR HIGHLIGHTING HAIR, FROM FOILING/WEAVING HIGHLIGHTS, LOWLIGHTS, FULL OR PARTIAL FOILS TO FULL BALAYAGE APPLICATIONS. WE CAN CUSTOMIZE A COLOR PACKAGE THAT SUITS YOUR NEEDS AND BUDGET. CALL OR EMAIL US TO SCHEDULE A FREE CONSULTATION.
WE ARE LOCATED IN THE BREWERY DISTRICT IN CITIZEN SALON STUDIOS, ON THE SECOND FLOOR, 201 – 12068 – 104 AVE NW, STUDIO 33. EDMONTON, AB. T5K 0T2.
---
CLAUDIO MARTINO
FOR APPOINTMENTS PLEASE SELECT:
TEL: 1.780.905.3653
EMAIL: CLAUDIO@MARTINO.CA
---
SERVICE MENU
CUTS
LADIES HAIRCUTS $78.
MEN'S HAIRCUTS $48.
HIGHLIGHTS W/ CUT
$175—PARTIAL HIGHLIGHTS.
$255—HALF HIGHLIGHTS.
$275—FULL HIGHLIGHTS.
$275—BALAYAGE.
COLORS W/ CUT
$165—STAND ALONE TONER/GLOSS.
$175—SOLID COLORS.
$185—GREY ROOTS REGROWTH AND REFRESH YOUR ENDS W/TONER OR GLOSS.
$235—SOLID COLOR + PARTIAL FOILS.
ADDITIONAL FEES
PRICES SHOWN ON OUR WEBSITE ARE ESTIMATES ONLY. FOR NEW CLIENTS WE ENCOURAGE YOU TO SCHEDULE A CONSULTATION. PRICES FOR COLOR SERVICES VARY DEPENDING ON DIFFERENT FACTORS, SUCH AS HAIR LENGTH, TEXTURE, PRODUCT USED AND TIME REQUIRED. PRICES ARE BASED ON MEDIUM SHOULDER LENGTH HAIR, FOR THICKER OR LONGER HAIR ADDITIONAL FEES APPLIES.
CANCELLATION POLICY
APPOINTMENTS MAY BE CANCELED OR RESCHEDULED 24HRS IN ADVANCE. NO-SHOWS OR CANCELLATIONS LESS THAT 24HRS MAY RESULT IN A FULL APPOINTMENT CHARGE.