A PROFESSIONAL HAIR STYLIST TRAINED IN CANADA AND USA. CO-FOUNDER OF MARTINO.CA. A BOUTIQUE HAIR STUDIO.
WE OFFER A WIDE SELECTION OF HAIR CUTTING-STYLING SERVICES AND HAIR COLORS, HIGHLIGHTS, BALAYAGE AND CORRECTIVE COLOR SERVICES.
WE ARE LOCATED IN THE BREWERY DISTRICT IN CITIZEN SALON STUDIOS, ON THE SECOND FLOOR, 201 – 12068 – 104 AVE NW, STUDIO 33. EDMONTON, AB. T5K 0T2.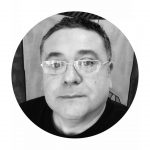 ---
CLAUDIO MARTINO
STUDIO 33
1.780.905.3653
FOR APPOINTMENTS PLEASE
CALL – TEXT – EMAIL
WHATSAPP
---
MENU
Cuts
Ladies Haircuts $79
Men's Haircuts $49
Highlights
Partial Highlights starts @ $139
Half Highlights starts @ $169
Full Highlights starts @ $199
Balayage starts @ $199
Colors
Stand alone Toner/Gloss starts @ $80
Solid Color starts @ $105
Grey Roots Regrowth starts @ $105
Color + Partial Foil start @ $195
Add-ons
Toner to bleach or color service $35
Olaplex to color service $35
Add Blow-dry with Color service $30
All haircuts include blow-dry
ALL FEES
SHOWN ON THIS PAGE ARE ESTIMATES ONLY AND PRICES VARY DEPENDING ON DIFFERENT FACTORS, SUCH AS HAIR LENGTH, TEXTURE, PRODUCT USED AND TIME REQUIRED. FOR THICKER OR LONGER HAIR ADDITIONAL FEES APPLIES.