1. Follow a proper hair care routine: After a haircut, it's essential to establish and follow a regular hair care routine. This includes washing your hair with a suitable shampoo and conditioner, ideally tailored to your hair type and concerns. You should also consider using a hair mask or deep conditioner once a week for added hydration and nourishment.
2. Protect your hair from heat: Heat styling tools like straighteners, curling irons, and blow dryers can cause damage to your hair if not used correctly. To maintain the health of your hair, use a heat protectant spray or serum before using any heat styling tools. Additionally, try to limit your use of heat styling tools and opt for air-drying or heat-free styling options whenever possible.
3. Avoid excessive washing: Washing your hair every day can strip away natural oils and cause it to become dry and brittle. Instead, try to wash your hair every 2-3 days, or as needed, to maintain its natural oils and overall health. This will help your haircut last longer and keep your hair looking great.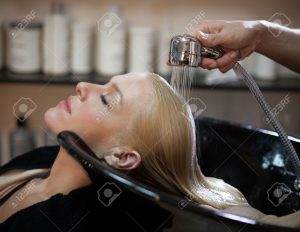 4. Use gentle hair accessories: Avoid using hair accessories that can cause excessive tugging or breakage, such as tight hair ties or sharp hairpins. Opt for gentle alternatives like scrunchies, wide-tooth combs, or soft hairbands. Be mindful of how you style your hair and try to avoid hairstyles that pull too tightly on your scalp or cause tension on your strands.
5. Regular trims: To keep your hair looking great after a haircut, it's important to schedule regular trims every 6-8 weeks. This helps to prevent split ends and maintain the shape and style of your haircut. Regular trims also promote healthy hair growth, giving your hair a fresh and maintained appearance.
6. Protect your hair from environmental damage: Environmental factors like UV rays, pollution, and harsh weather conditions can cause damage to your hair. To keep your hair looking great, protect it from these elements by wearing a hat or using a leave-in conditioner with UV protection when spending prolonged periods in the sun. Additionally, try to rinse your hair with clean water after swimming to remove chlorine or saltwater, which can be drying and damaging.
Remember, maintaining healthy hair after a haircut requires a combination of proper care, protecting it from damage, and regular maintenance. By following these tips, you can keep your hair looking great long after your visit to the salon.